LES BRERS:
LONGTIME ALLMAN BROTHERS BAND MEMBERS
CONVENE FOR TWO-NIGHT STOP IN MACON, GA
SELECT SUMMER FESTIVAL SHOWS PLANNED 
UPDATE: Photos from March 23 show and March 24 show now online!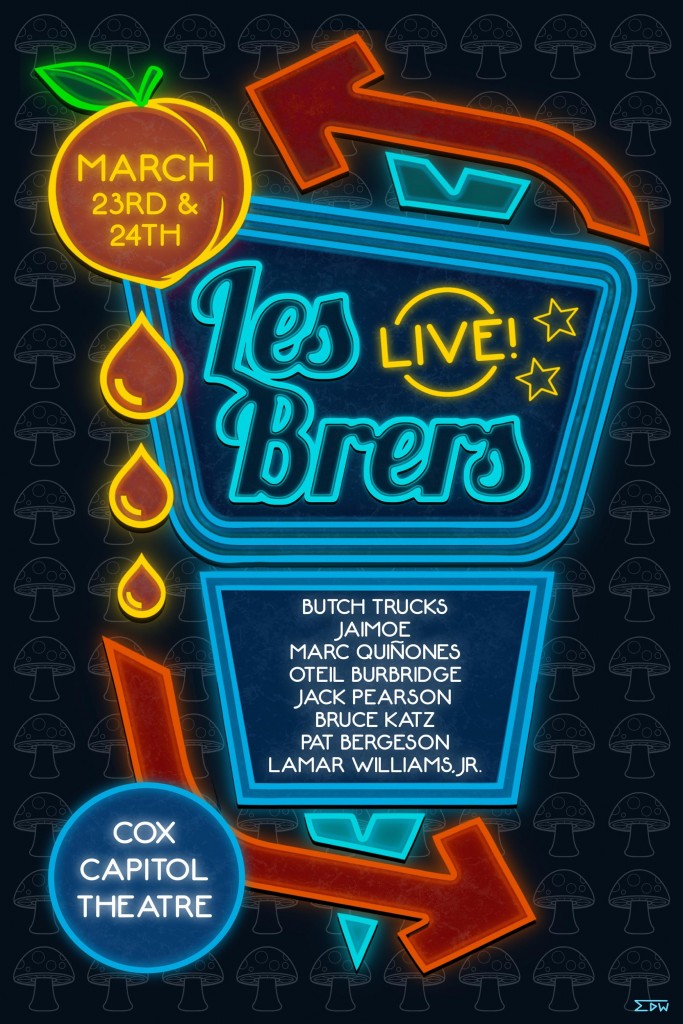 Longtime members of the ALLMAN BROTHERS BAND including BUTCH TRUCKS and JAIMOE have gotten back together to form LES BRERS, a band celebrating the group's music and legacy.  The group will hit Macon, GA's Cox Capitol Theatre March 23 and 24, with portions of the proceeds to benefit the Allman Brothers Band's Big House Museum in Macon.
 The pedigreed group consists of founding ABB members BUTCH TRUCKS  and JAIMOE (drummers), longtime members OTEIL BURBRIDGE (bass) and MARC QUINONES (percussion), former ABB guitarist JACK PEARSON, frequent ABB guest BRUCE KATZ on keyboards, singer LAMAR WILLIAMS JR. (son of the former ABB bassist) plus guitarist PAT BERGESON (Chet Atkins, Lyle Lovett, Suzy Bogguss).
LES BRERS are set to appear at the Allman Brothers' Wanee Fest in Live Oak, FL this April.  Other summer festival shows are being booked.  The band's name is a nod to the instrumental "Les Brers in A Minor" from the ABB's epic breakthrough hybrid studio/live Eat A Peach album, which was released in 1972 and cemented the band's superstardom status.
The band will perform an eclectic selection of music familiar to fans of the Allman Brothers Band, whose unique improvisational style, great songwriting and heavy touring made them one of the most acclaimed bands in American rock history.  They are members of the Rock & Roll Hall of Fame, earned a Grammy Lifetime Achievement Award (plus various other Grammy's) and many Gold and Platinum records. 
https://www.facebook.com/LesBrersBand
https://www.ticketfly.com/purchase/event/1082295
Click the poster image below for a full size PDF file of this gorgeous poster!